News and Views: May 2014
Random comments about playing and developing games, developing game engines and other custom software,
running a small business in retirement, and life.
We'd appreciate your feedback and comments.
Rude comments, however, will be summarily deleted. NOTE: If you try to post a comment and it doesn't work, please email us your name and a copy of the comment, so that we can figure out what's going wrong. Thanks!

---
BO

I think this is among the most important info for me.
And i am glad reading your article. But want to remark on few general things,
The web site style is perfect, the articles is really nice : D.
Good job, cheers check credit score


---
CG

Hi there would you mind letting me know which webhost you're working
with? I've loaded your blog in 3 different internet browsers and I must say this blog loads a lot quicker then most.

Can you suggest a good hosting provider at a honest price? Thank
you, I appreciate it! what is a credit score


---
??????? Mandy is interested in your profile! More

ttj3q00


---
?? Diana want to meet you! Click here: https://clc

mm7ikm84


---
h=acc25b8c29f68e1f737f04a6825c1b39-
h=7bb63e8246d09697174a341756734b5b-
???? ???????? ?????,?? ???? ?????? ??????????? ???

sm2wum


---
???? ???????????,?? ??? ???????? ?????????. ??????

cparcy


---
???? You have pending messages (4) from Audrey! Vi

qnifqs


---
???? You have pending messages (5) from Vicki! Vie

j970ji


---
| | |
| --- | --- |
| 5.29.14 Here's a FaceGen character you saw before, but now he's in DAZ Studio with a body and clothing. His hair is custom made using Look At My Hair. The background is a screen shot from Google SketchUp. This image, although it's neither perfect nor final, shows what you can do with free or low-cost software and some practice. | |
| | |
| --- | --- |
| 5.28.14 I've been learning DAZ 3D -- if you make enough mistakes you learn quite a bit. How do you like my cops for Picture Perfect Murder? The poses are some that I did myself with DAZ studio. Most of the built-in poses strike me as a little off-beat. Maybe my poses would strike other people as off-beat, who knows? When we have our Kickstarter campaign, we could replace one of the cops with you. | |
| | |
| --- | --- |
| 5.27.14 Here the housemaid at the B&B in our game, A Picture Perfect Murder. The lights are on, but nobody's home, or maybe she's just in shock from seeing the body. This is another character I made using Facegen. You can download the software for free, although you have to buy the exporter in order to get rid of a big "SI" on the forehead. FaceGen has maybe 50 built-in facial texture maps, and you can create a texture map of your own from photos of your friends or relatives. During our Kickstarter campaign, you'll have the opportunity to become a character in our game. We'll use your photo to create a FaceGen model of your head and then put your own skin texture on it. We've been practicing. | |
5.26.14 Note to game developers everywhere: Beautiful graphics will not make up for obscure or trivial adventures. Lots of cut scenes will not make up for simple-minded mini-games. And if you're going to include additional mini-games, make them available after the game is over!
| | |
| --- | --- |
| 5.23.14 Here's a hint for generating game characters: asymmetrical faces are less attractive than symmetrical faces. Here's a character who is unattractive not because he's old and grumpy, but because the sides of his face don't match. | |
| | |
| --- | --- |
| 5.22.14 Here's another FaceGen character I made. This guy looks like a real slacker. Of course, if enough people buy characters during the Kickstarter campaign, we probably won't have him in the game. It doesn't seem to me to be very nice to make slackers out of people who have enough interest in our game to buy a character! | |
| | |
| --- | --- |
| 5.21.14 A couple days ago I gave you a link to FaceGen. Here's one of my better efforts. FaceGen has a few haircuts that you can put on the faces, although I haven't figured out how to export them along with the face (I think maybe it's not possible.) Once you have the face in Daz Studio, you can put hair on it using either a default DAZ hairdo, a purchased hairdo, or a plug-in like Look At My Hair. Purchased hairdos cost about the same each as getting your hair done at a barber shop or hair salon. Look At My Hair can be used for as many characters as you like, but you have to learn to use it. And because there are hundreds of developers, the LAMH hair is sometimes incompatible with some other clothing item or prop. So here's my solution: build games where all the characters are bald. | |
5.19.14 Recently I played a game that I really can't recommend, even though the graphics are gorgeous. Many hidden-object/adventure games have similar plots, but this one was, shall we say, more similar than most to the Awakening series from Boom Zap (which I do highly recommend). In the not-recommended game, we found 6 serious bugs, and we weren't even testing the software (which we do professionally). (When I say "we," I mean that when I start ranting, Madison comes to see what I'm doing wrong. When he starts ranting, it's almost always a bug.) Worst of all, quite a few of the mini-puzzles in the game go way beyond diabolically difficult and hit "tedious." Apparently you can only win them by chance after hours of play. I ended up skipping several of them. Madison skipped one! He thinks that one might have a bug that makes it unwinnable.

So here's a bit of advice to game developers everywhere: test your software before you release it. In fact, have a naive user (one who wasn't part of the game-development team) test it. There's really no profit in a game that convinces me never to buy your brand again.
5.19.14 Customers seem to like the software I design, probably because I'm pretty short-tempered about badly designed software. I tell the programmers on my teams, "I don't care whether the software works, as long as it isn't annoying! Games where every puzzle is so obscure that I need a hint, where the hints are completely useless, or where the hints include detailed explanations of every step are all annoying. When a single game does all three, it's annoying!
5.16.14 Madison was searching for stock night sounds for A Picture Perfect Murder™. I was playing some game and said, "Come listen! This game has got a great cricket sound." He came out to hear it, and it turned out to be a real cricket on the back patio. But it definitely was a great cricket sound!

5.15.14 Here's a tip on green-screening: save your graphics as .bmp or .png files whenever possible. Jpg files blend the colors at any boundary, so when you try to green screen onto another background, the edges are messy and a real pain to clean up. After you do the green screening, you can save as a .jpg or .png file if you want to get a final product with a smaller file size. The stop sign on the left was saved as a .jpg; the one on the right was saved as a .bmp. I used Ducks' Spectrum Works Studio, and I did one step green screening--worked great for the bmp, not so much for the jpg. (More steps would have improved the .jpg.)

All that said, green screening rarely seems to be as easy as all the YouTube videos say it is. And while I'm on the topic of YouTube, why do some developers of software tools omit any sort of decent help or instructions? Thank God for 12-year-old boys and YouTube! Sometimes that is the only good help I can find about how to use a piece of software.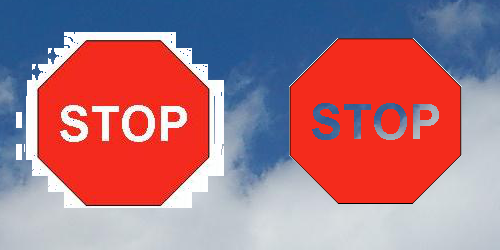 | | | | |
| --- | --- | --- | --- |
| | 5.14.14 Here are a couple of cats who auditioned for parts in "A Picture Perfect Murder." The cat on the right not only came with his own library of classic murder mysteries, but also had previous experience in video. We at Ducks were saddened by his death a few months ago, more evidence that only the good die young. | | |
| | |
| --- | --- |
| 5.13.14 1% of the gross national product was spent to develop the Internet, and now it's mostly used as a conduit for trading meatloaf recipes and pictures of cats. Madison Link, my game-development partner, often says that "everything's cuter with kittens," so I spent some time working a cat into A Picture Perfect Murder™. This raised questions: Should the cat just be there, like in the background? Or should the cat have an active role in helping to solve the murder? My current cat is 13, and she doesn't take an active role in anything! | |

5.12.14 Here are a few tips for website customer service:

1. Keep your records up to date. Don't send somebody an email on May 9 urging them to go to your website (e.g., to make reservations), and then fail on May 10 to recognize the member number and the email address it was sent to.

2. Test your website regularly. Make sure all the links and forms work properly (e.g., the password-reset form, in case you've forgotten the member's email address and member number).

3. If you have a customer-service phone number with a voice-recognition function, make sure that it recognizes voices. If the customer mumbles that the member number is "abc1234," okay, say you didn't get that. If the customer then says, "A, B, C, 1, 2, 3, 4," maybe you should be getting that. If the customer is now saying, "A! … B! … C! … 1! … 2! … 3! … 4!" perhaps you should automatically transfer to a real person. And when the real person comes on, please do not force them to say, "Yes, we know that doesn't work." If you knew it didn't work, why on earth didn't you take the darn thing down?!

4. If you have real people at a customer-service center, make sure they know how the website actually works. Tell them not to argue about what the customer is seeing on the customer's computer screen. Don't suggest it is the customer's fault for not having the right browser, although it's okay to ask what browser they have and apologize for not supporting that one. In fact, back in step 2, you should probably have tested your website using a variety of standard browsers.

5. And finally, if your real person absolutely cannot help after about ten minutes, please, please, don't have them say, "Is there anything else I can help you with?" NO!! You Haven't Helped Me At All YET, So How Can There Be Anything ELSE You Can Help Me With??? The correct closure is, "I'm really sorry I couldn't help you, ma'am, but I hope you have a good evening."

Having said all that, I will add that most of the customer-service people I talk to are patient and polite. It's just the websites that are sometimes badly designed.

5.8.14 It also irritates me when the developers of hidden object games put in objects that defy the laws of physics, e.g., magnets that stick to wooden walls, or hammers that cling to the ceiling. Believe me, my house is cluttery enough that I know you can make scenes just filled with objects that obey the laws of gravity.

Of course, my all-time favorite computer game is Adventure!, also known as Colossal Cave. It was one of the first, published way back in the early '70s, when games were played on main frame computers. As a text adventure, it had no graphics at all, but I can still remember what the scenes "looked like." Sophisticated game play beats out beautiful graphics every time!

5.7.14 It irritates me when the developers of hidden object games pay no attention to the size of objects in the real world. One game I played took this to extremes. In one scene, an electrical plug (not outlet) is almost as tall as a bowling ball (5 or 6 inches?), and a 36-string harp (normally about 5 feet tall) was the size of a couple of bookshelves – maybe 24 inches high. Come on, people! You can put things into the scenes at close to their natural sizes with no additional effort!

"Steve the Sheriff" and "Steve the Sheriff - Case of the Missing Thing" are a couple of cute hidden object/adventure/puzzle games from Big Fish Games. Steve, the sheriff of Neptuneville, is supposedly a crab. I think he looks more like a lobster, but with cartoons it's hard to tell. What I especially like about these games is that the hidden objects are typically the right size and "hidden" in a place that you might realistically expect to find them--e.g., a knife is more likely to be on a table than in the curtains. Even so, sometimes they can be challenging to find. The graphics are cheerful and the music is sultry, fitting for a detective. Both my 5-year-old grandson and I enjoyed these games. Check out the free demo at Big Fish.

5.6.14 FaceGen is a really fun piece of software that lets you make photo-realistic faces in several different ways. You can "randomly" generate faces, although after a while I noticed that the random faces start looking very familiar. You can modify individual facial features to suit yourself. Or you can match a face to a photograph. Using a combination of methods and a little patience gives you great-looking, photo-realistic faces; in the coming days I'll show you a few that I've made. The exporter is easy to use, and applying the face to DAZ Genesis is simple. FaceGen is available for free, but unless you get paid version of the exporter ($99, last time I checked), your character comes out with a big "SI" branded on his or her forehead. The only problem I have with FaceGen is that every facial feature is connected to every other facial feature, so sometimes it can be difficult to, for example, widen the bridge of the nose without changing the shape of the forehead. Overall, I love FaceGen, and we are using it for all the characters in "A Picture Perfect Murder."



More News and Views
June and July 2014